That song might be lame as shiznat but I still love it and it ain't my birthday either but it is link-up time!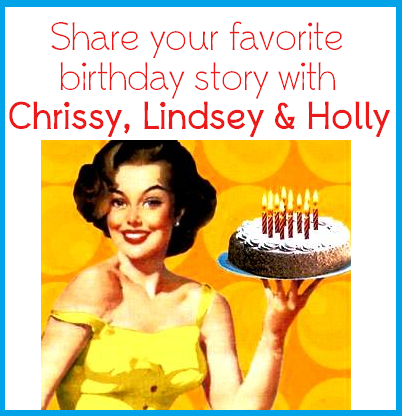 I have had a lot of really awesome birthdays and I've had some really crappy ones, the crappy ones would probably be more entertaining but whatevs.
5th Birthday- My family had just moved for the 4th time in less than 5 years, which really wasn't a big deal seeing as that I was a toddler for most of it. This last move had been harder because I had started to make friends in my neighborhood in South Carolina. I think my mom felt a little guilty. I passed out invitations to everyone at my preschool but seeing as none of the parents really knew my parents, my mom was pretty sure it wouldn't be a packed house. Luckily my wonderful grandparents were gracious enough to drive from Alabama to Tennessee for my 5th birthday. My mom's cousin and his wife also lived close by. Okay so the morning of my birthday which must have been on a weekend, I walked downstairs and saw my mom wrapping presents and from that point on I got so excited! From that moment on it was a great day. My cousin and his wife showed up with a Barbie swimming pool! At no point do I remember being disappointed that none of my schoolmates were able to be there or that I missed my little friends in South Carolina. Memories like this make me realize how great my family is even though we don't always see eye to eye.