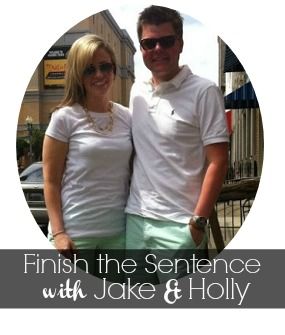 1. My favorite Christmas was....
Oh geez that's hard so many great ones! Probably the the Christmas when I was 17, I was grounded but my sweet boyfriend at the time made me forget that. It was the first time he told me to loved me. He got me a Build-a-Bear and he oh so cleverly told me to squeeze the bear's paw when I did it said, "I love you", to which he replied "But I wanted to tell you first". Yes you may take time to take in all the cheesiness!
2. The worst Christmas I had...
4th grade, when I stopped believing in Santa, I did however get a purple inflatable chair.
3. That one gift that made me scratch my head and say, "Hmmmm" was...
Pretty much anything my mother has ever gifted to anyone as a "surprise". If she ventures off of the list you're in for a real treat.
4. One year I....
Received a training bra and underwear as a present in front of my humongous family majority of which were male cousins.......needless to say I didn't model around in my present that year.
5. I think the worst gift to give is....
Large tins of Wal-Mart popcorn
6. At Christmastime I typically....
Watch Christmas Vacation and recite every line.
7. Typically, family Christmas....
Means lots of craziness, it's fun though, oh and one side of my family likes to "pick-n-grin" and my mom dances...livin the dream
8. If I could change one thing about the Holiday season....
I would bring my family closer so there wasn't as much driving.
9. It is so hard to buy for....
My mom, she's getting brought up a awful lot today. Hi Mom!
10. My favorite Christmas tradition is...
Looking at Christmas lights and watching Dana Carvey impersonate George Bailey
11. Santa, baby, bring me a ....
More like Santa, baby, take away these extra pounds :)